This is a quick post as I'm in the middle of doing my tax returns, and I really do want to finish them today.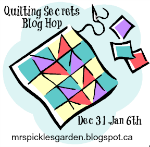 I think we have all enjoyed the blog hop that
Mrs Pickles
organised for us, I know I certainly have. Today is the last day and the hostess is Mrs P herself, so hurry on over there to see what secrets she is sharing with you all.
Now better late than never, I have asked Mr Random. org to pick the winner of the $25 gift certificate donated by the Fat Quarter Shop, and he has chosen
and number 2 is Ruth, who blogs at Country Log Cabin,
here
.
Congratulations Ruth and I must thank Mr Random for picking a lovely low number so I didn't have to search to far to find the winner.
Thanks also again to Mrs Pickles for organising this hop and to the companies who generously donated giveaway prizes.